A week ago over at a "Bowl Full Of Lemons" it was all about "Organising The Office."When we built our house we added a study/office to the lower level.  For the first year we used this space every day.  Then Master O was born and it was just too hard to find time to work inside an office and watch him at the same time.  Thank heavens for laptops!  Then just in time for Little Miss A to be born we got wi-fi!!!  So my office became the dining table, backyard, lounge room floor.
Over time our office space has become an unused space holding our large three drawer filing cabinet, a massive desk, wireless printer and a whole lot of junk.  It was just not a practical place to store bills, budgets, mail and calendars.  Hence, the birth of…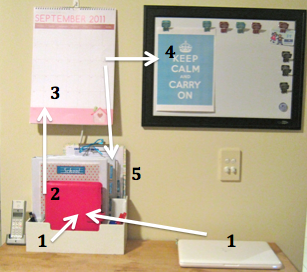 The numbers and arrows in this picture show the order or system which we use to keep track of everything.  You can read more about this HERE.
Basically this area consisted of 4 main components.
1. A Bills Clipboard.  
Once mail is opened any bills are recorded on the claendar inside the Family Finance Folder and then placed on the bills clipboard.  As money comes in we check the clipboard to see what needs to be paid next.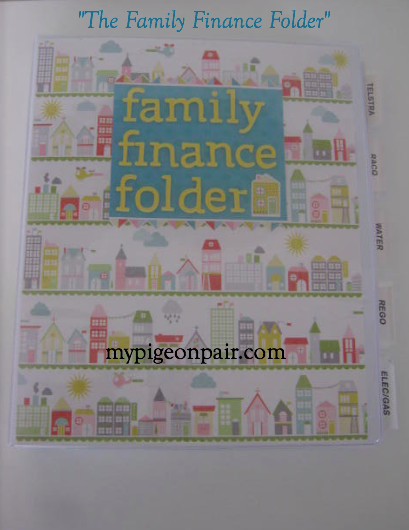 This folder is divided into common categories and acts a storage file for bills paid and receipts.  Inside the cover is a calendar where we record when bills due.  This is the single best thing we have done to manage the paper in our house!
This is a similar folder but for all the paperwork associated with having a child at school! We have since moved this folder out of this area and established a "School Station" so that all school times Hats, bags, folders etc stay together!
4. The Family Calendar and Whiteboard
This is where we record and store family appointments, rosters, invitations, community notices.  It helps having them all in one central place easy for everyone to view.
With an effective systme in place it is easy to use a small space to help control the endless paper control that comes, well form just living!
How do you control the paper clutter in your life?  
Linking up with
Related posts: