Someone has been getting up to mischief at our house!
Tricksy has just been hanging around!  He didn't get the initial reaction we had intended!  Master O was actually a bit scared of him but Little Miss A promptly began treating him like a baby doll!
Do you have an elf getting up to mischief?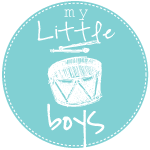 Remember you can vote every day!
Related posts: