Well it's that time of year.  You know the time when the winter wrdrobe is packed away and the bikinis come out.  Well maybe not bikinis, but the clothes that show off the pasty legs and tuckshop lady arms will be back with a vengance.  So it's time to put away the slow cooker and start the healthy summer eating.
Monday ~ Cumin Chicken with Brown Rice Salad.
This is simply chicken breast strips seasoned slightly with cumin, salt, paprika and pepper.  Toss through the deilicious brown rice salad with coriander, capsicum, lime and green beans.  Yummmm!
Tuesday ~ Lamb with tzatziki dipping sauce served with cucumber, fetta and tomato salad.  Find a great Tzatziki recipe HERE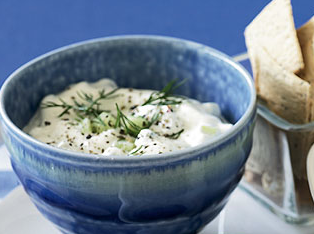 I make my own dipping sauce with greek natural youghurt and garlic paste.   Squeeze some lemon on the lamb as it is cooking!  Serve with a chopped cucumber, tomato and fetta salad.  This also makes great lunch leftovers!  Master O loved the tzatziki sauce so much we convinced him to eat tomato, cucumber and lettuce if he dipped the vegetables in the sauce!
Wednesday ~ Meditteranean Vegetable Skewers.
Simply  slice eggplant, zucchini, mushrooms, red and green capsicum into cubes and place on presoaked skewers.  Cook on the BBQ.  Serve on top of salad for the adults and rice for the kids.
Thursday ~ Balsamic Beef with Greens. Find the recipe HERE 
Friday ~ Home Made Fish and Chips
You can still enjoy some guilty pleasures without feeling guilty.  Skip the deep fryer and oven bake some home made potato chips!  Steam your fish with some lemon, not butter and serve with a fresh green salad with a light dressing instead of creamy tartare sauce!
It is all good in theory I just need to avoid the temptation to dish up some delicious creamy pasta when I'm hungry!  Wish me luck!

All images taken from my favourite recipe site taste.com
Related posts: