This week we are spicing it up a bit and attempting some International cuisine.  Growing up in an Italian household, as children we ate the most AMAZING meals.  BUT I can't say we ever had a greek souvlaki, a pad thai or some chinese dumplings!
So this week I am going outside my comfort zone whilst stating with some EASY international cuisine!
Monday ~ Greek Lamb Souvlaki
This is soo easy!  We bought a "box" Souvlaki kit form Aldi.  Add some lamb, natural youghurt and fillings such as lettuce, onion, tomato and cheese.  This was DELICIOUS!  I used the leftover lamb for a salad the next day!  Highly recommend it!  We just place all the fillings on a divided serving platter and every body chooses their own filing!  The garlic youghurt was so good we managed to get master O to eat lettuce, tomato and cucumber as he dipped it in the yoghurt!
Tuesday ~ Pad Thai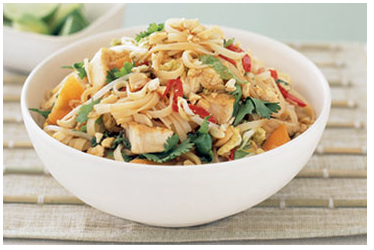 My kids love noodles and this was a great way to do something different with them!  We added chicken and skipped the nuts for the kids.  We used a sachet mixture as a recipe base.
Wednesday ~ Vietnamese Rice Paper Rolls
This was a great activity do with the kids!  The ingredients are very cheap and easy.  We wrapped rice nodles, lettuce, coriander and chicken for the kids and some prawns for the adults!
Thursday ~ Make your own burger
This could be Australian or American but it doesn't matter as long as it is delicious! After the success  of the choose your own souvlaki filling we made some basic rissoles with your average breadroll and then put the other options on the table!  Try beetroot, pineapple, lettuce, tomato, cheese and of course some sauce! 
Friday ~ Eggplant Parmigiana
I had to sneak an italian one in there!  This is a time consuming but DELICIOUS dinner and makes even better leftovers!
International cuisine does not have to be complicated or expensive and can be very kid friendly whist introducing them to something new!  A win for everyone!
So what's for dinner at your house this week?
Linking up with The Organised Housewife.

Related posts: