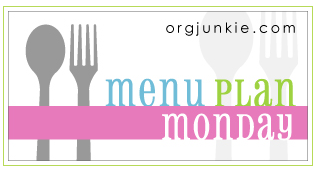 This week I am linking up with two AMAZING organising blogs!  For American readers (where is it not quite Monday yet!) I am linking up with orgjunkie.com

For Australian readers I am linking up with the inspiring Kat from The Organised Housewife!
Monday ~ Lamb Kofta with Tzatziki Dipping Sauce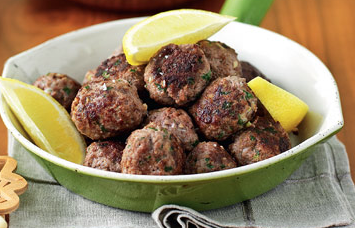 Basically a Kofta is a bit like a meatball! Always a hit in our house they make great lunch leftovers even for little hands.  Kofta's are easy and cheap to make especially if you grow your own herbs like us!  There are many variations of Kofta recipes but I love Lamb and we often use this RECIPE As for the tzatzizki of course you can make it yourself but this week buying greek youghurt was more expensive than buying a simple tub of tzatziki dip! 
Tuesday ~Mini Muffin Pizza's
This is a kid friendly recipe that the whole family can get involved in!  Simply put;           Cut some muffins in half, spread some tomato suace of your choice (we mix some tomato paste with a few herbs and a bit of bbq sauce!)                                                         Layer with ingredients that the family choose (we love pineapple, ham, bacon, olives and feta!) top with mozarella cheese and put under the griller until melted!  This is such an easy dinner after a busy day!
Wednesday ~  Mexican Bolognaise Bake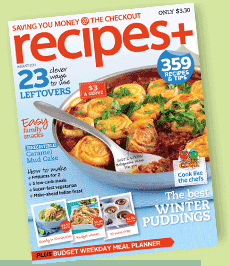 This recipe was inpired by the cover recipe from the August Issue of Recipe's Plus Magazine.
It takes a basic bologneise sauce, add a can of beans ( we used a good old three bean mix!) and add a sachet of taco sauce.  Scroll up some pastry sheets and lay them on the top of your mix.  The kids loved this and didn't even notice there were beans in it!
Thursday ~Proscuitto and Sage Chicken
This has been featured on our past Menu Plans but it is just so delicious!  It is a little expensive but the Proscuitto can easily be replaced by bacon to save money.  Just place a sage leaf on a chicken thigh and roll, securing it with a presoaked skewer.  Wrap with proscuitto or bacon and bake!  We love this one served with a cruncy noodle salad and roasted pine nuts!
Friday~ Mediterannean Vegetable and Fetta Frittata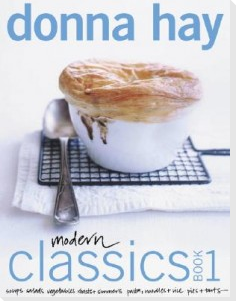 This is our end of the week lets use up all the left over vegetables dinner.  Simply oven bake any vegetables you have left over.  We typically use capsicum, potato, pumpkin, eggplant and onion.  Once your veggies are baked place them in a frying pan and top with fetta cubes and your frittata egg mix.  I have always used the Frittata mix form the "Donna Hay Modern Classics" cookbook!  It was one of the first cookbooks I ever received and is my go to guide! Fry until the bottom begins to form and then top with mozzarella and place it in the oven to finish!
Saturday ~ Veal Parmigiana
Who doesn't love a simple parmigiana.  This week we are going with veal for something different!  A simple crumbed veal fried in the pan and then topped with tomato salsa and mozzarella…served with mashed potato and steamed greens…DELICIOUS!
Sunday ~ Cheesy Ham Sandwich Bake
This is another one from the August issue of Recipes + Magazine.  Sunday is our usual freezer find, breakfast as dinner or leftovers night!  This week we are trying a new take on the humble toasted sandwich!  Simply make some ham sandwiches with a little mayonaise or chutney on them.  Cut into triangular quarters.  PLace them in a baking dish and top with cheese.  Place under grill and….Cheesy Ham Sandwich Bake!  Sure to be a hit with the BIG and LITTLE kids!
What's for Dinner at your house this week?
All recipe images are from my favourite food website Taste.com
Related posts: